JMS Burn Center
Inpatient burn center
What are burns and what types of burns are there?
First aid treatment for first-degree burns.
Teaching your family about safety and burn prevention could save lives.
Basic safety information for preventing burns.

Because barbecue grills are operated in a casual, relaxed atmosphere, they tend to be taken for granted.

The latest data available from SAFE KIDS USA.

Listed here you will find additional information relating to first-, second-, or third-degree burns.

Burn injuries require emergency clinical care by a physician or other health care professional.
The Burn Center at Crossgates River Oaks Hospital
In March 2008, Crossgates River Oaks Hospital opened the outpatient burn clinic by partnering with the Joseph M. Still Burn Center in Augsta, GA. At the time the clinic opened, they provided follow-up treatment for burn patients twice a month. Crossgates River Oaks Hospital's outpatient burn clinic grew to averaging 30-35 patients per day in the following months.
With the growth of the outpatient clinic and the need for a inpatient burn center in the state of Mississippi, the hospital opened the inpatient burn center in July of 2009. The inpatient services include treatment of non-critical burn patients, continued treatment of outpatient burn injuries as well as their comprehensive follow-up care, including reconstructive procedures. In June of 2011, Crossgates River Oaks Hospital expanded is Burn Center by building a $2 million dollar intensive care unit, specifically for burn patients, and also built a new burn step down unit. The expansion will enable the hospital to treat patients at the facility rather than transferring the patient to the parent facility in Augusta, Georgia. Doing this will not only allow Mississippians to be closer to home and allow family members to be closer to their loved ones while they are experiencing a difficult and traumatic time in their lives.
The Burn Center is also an exceptional asset our state's firefighters, as they put their lives on the line everyday while doing their job. Amanda Fontaine, Executive Director of the MS Burn Foundation said, "As firefighters put their lives on the line, it is reassuring to know that we have quality burn care available in our state, not only for themselves, but for citizens they work so hard to save. Family members of burn patients will no longer have to travel out of state to support their loved ones recovering from injuries."
For more information on Joseph M. Still Burn Center at Crossgates River Oaks Hospital, or to schedule an appointment, please call (601) 824-9430.
Watch our video: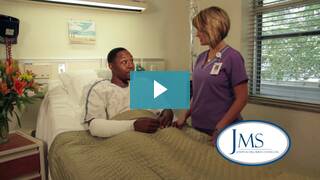 MS Burn Foundation
The MS Burn Foundation is working closely with Joseph M. Still Burn Centers, Inc., at Crossgates River Oaks Hosital to supply Mississippi burn patients with transportation, prescriptions and compression garments. For more information about the MS Burn Foundation, or to find out ways you can help support this organization, please visit www.mfmba.org
Inpatient Burn Center
The Burn and Reconstructive Center at Crossgates River Oaks Hospital is proud to be affliated with the Joseph M Still Burn Center, Inc., located in Augusta, Georgia. The Joseph M. Still Burn Center is the largest burn care facility in the United States and we at Crossgates River Oaks Hospital are extremely fortunate to have a facility of this caliber located in our own backyard, right here in Brandon, Mississippi.